Le Comptoir des Alpes, A welcoming and intimate restaurant in Chamonix
Le Comptoir's atmosphere
After your romantic sightseeing walk around Chamonix or after enjoying ski runs with your whole family… Why not come to Le Comptoir des Alpes to discover and taste a gastronomic meal, right here, in front of Mont Blanc? Granite, wood, glass… Materials, flowers and plants make the perfect combination to create a warm atmosphere in a refined decor. What a blessing to find a restaurant in Chamonix which combines an original interior with stylish and friendly vibes!
Enjoy our sunny terrace or cozy indoor restaurant! Le Comptoir des Alpes offers you friendly and professional service. All is perfectly well-organized for you to simply appreciate our Franco-Italian gourmet cuisine…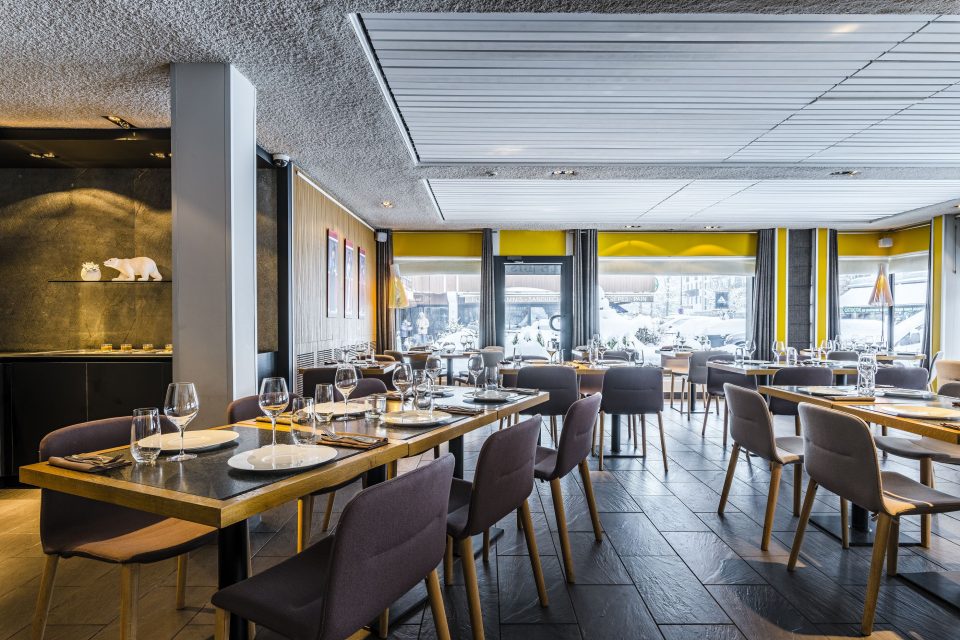 Feast on fresh, enjoy local produce in Le Comptoir des Alpes's beautiful dishes…
Your taste buds prefer local, fresh and creative cuisine? You are about to discover an enchanting menu in which French and Italian regional products flawlessly work together. Chef Daniele Raimondi opens his new Franco-Italian menu with a typical entrée, a risotto made of surprising flavors : rice cultivated in Milan, bacon from Anrad farms near Mont Blanc, French juicy pears, Italian gorgonzola cheese and nuts picked near Grenoble… You will love it! Then, why not give a cheerful taste to the Tagliata de bœuf Black Angus? Crispy, creamy and melting… Many would become speechless while tasting these amazing textures… BBQ beef tenderloin from Savoie, diced potatoes mixed with an onions compoté, rustic bacon and a Reblochon mousse. You may know about the regional Tartiflette, but this one is so delicate, light and modern. If you are more of a fish lover, you must try the omble chevalier. This fish, raised locally, is slowly cooked in flavoured absinthe butter. This dish comes with pappardelle and fresh yellow or grey chanterelles from the farmers market. Chef Daniele Raimondi worked on a creative and vibrant menu, like his own personality. The dishes will be changed often to help you discover all the delightful Italian and French products coming from this charming Alpine region.
High end products served in a unique, healthy and generous menu… You must discover now Le Comptoir des Alpes, a restaurant in Chamonix where the Franco-Italian cuisine reaches the top – just like Mont Blanc!